INTRODUCTION
Hi! Welcome to The Matthew Craig Dot Com.
Inside, you'll find just over three hundred pages of bespoke comics, by artists as far afield as Belgium and California - as well as plenty of stories ilustrated by your humble host. There's a wide range of stories for your consideration, from one-page vignettes to forty-page novellas. Click the COMICS link above to start reading.
If you prefer paper to pixels, I also sell print editions of many of my stories. Click through to the SHOP to see what we have on offer. All UK prices include postage and packing, and all books come with (some very understated) freebies, such as stickers and sketchcards.
If you've never read a comic before - or are returning to comics after a long absence - then you're in for a treat. There are whole worlds - universes, really - just waiting to be discovered. And once you've devoured the stories to be had on this website, you might find yourself wanting more.
But where to get it? And what to read?
You could just visit your local library, bookshop or comic shop, and pick the first thing that looks interesting. But if you'd like some more specific recommendations, then please click through to the PROSE section of the site, where you will find reviews of some of my favourite comics of all time, as well as essays on all aspects of comics and comics culture. There are more such essays to be found here.
I hope you enjoy what you find on The Matthew Craig Dot Com. A lot of love, hours and ink have gone into making the site you see before you. Thanks for dropping by, and I hope to see you again soon.
Best Wishes,
MATTHEW CRAIG
//\Oo/\\
SITE UPDATES
20-04-2015: &nbsp Well, it's been a while, hasn't it? I've been a bit quiet, for which I can only beg your indulgence and forgiveness. But now we're back with a brand-new jam: NEWSTREET VS. THE ACCELERATI, the story of a young man trying to keep a promise, while looking for love in all the wrong places (Birmingham). The comic is illustrated by the excellent Steve Roberts, whose wonderful autobiogaphical comic Fingers Crossed (created with Jim Pownall) is a great example of the graceful reality Steve brings to all his work (especially Newstreet!). Here's the synopsis: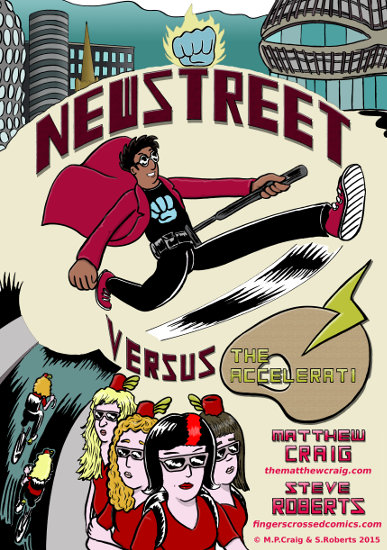 Rajesh Ramani divides his time between his Forensic IT job, protecting his city as Newstreet, and a series of disastrous dates with Birmingham's eligible bachelorettes. But when a series of technologically-sophisticated bank robberies leads him to a community arts project with complicated motives, what Raj finds might just break his heart – if it doesn't break his face first!
It's Flight, Fight and Flirt as Birmingham's kung fu champion meets the supervillain of his dreams!
Newstreet debuted at The Birmingham Comics Festival on April 18th, where we were able to sell a nice fat stack of copies. Early reviews of the comic have been largely positive, for which Steve and I are both very grateful.
Unlike my other comics, Newstreet is completely print-exclusive. There's no digicomic edition, and there won't be for a good while to come. This is because of irritating VAT regulations beyond our control. So the only place you'll be able to buy a copy is in my Comicsy store. The comic comes in two editions: a £3 edition, consisting of just the comic and some stickers, and the £6 limited-edition giftset, which consists of a copy of the comic, two exclusive badges, a sheet of 6 exclusive and never-to-be-reprinted stickers, a piece of original artwork by Steve, and a photo print by me. Plus a couple of random stickers from the bag. Not bad for £6, and it'll help us offset our costs, making future ventures more viable.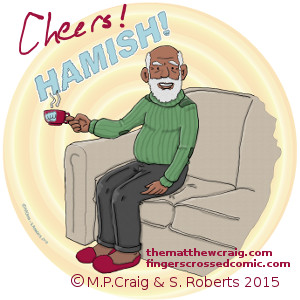 Newstreet's been a long time coming, so it feels even sweeter than usual to be able to put this book in your hands. You'll see there are a couple of prototype stories here on the site. Raj is still the same character he was in these stories, but thanks to the wit and humanity of Steve's artwork, he's finally here to save the day, the right way.
We hope you enjoy Newstreet. My next convention outing will be Birmingham ICE on Saturday September 5th, but I'm hoping to be able to bring you at least one wee strip before then, so check back soon!
14-04-2013: &nbsp I've added a free digital download to my Comicsy store: MOIR: STAND UP, COMIC. You may have read Moir in print, or here on The Matthew Craig Dot Com in the past, but the power of digicomics allows me to revive it as a thank you to everyone who has read or purchased a comic in the past year.
Published in 2007, it was my first long comic with a purely real-world setting and cast. No superheroes, no dogs: just a guy, his best mate, and the city of Manchester. I published it in order to take to a reunion of University pals, but of course the British weather put the mockers on that.
Reading Moir today, I can see both its deep flaws - the art, the fact that it was written and drawn in a serious rush - and its strengths. I believe in the characters, some of the dialogue is not too bad, and it feels authentic to my memories of Manchester. I hope you'll feel the same way when you read it. There are plenty of bonus extras, including photos of real locations depicted in the story, alternate covers and an embarrassingly rough first go at the character from Summer 2001.
The .pdf download is free, with my compliments and deep gratitude, although I hope you'll consider dropping one or more of the other digicomics in your cart while you're there. I appreciate any and all custom. Please note that if you buy all seven digicomics (&pound3/$4.60), you'll get a free print comic of your choice (in the UK) or a digital sketch (outside the UK), stock and my poor hand permitting.